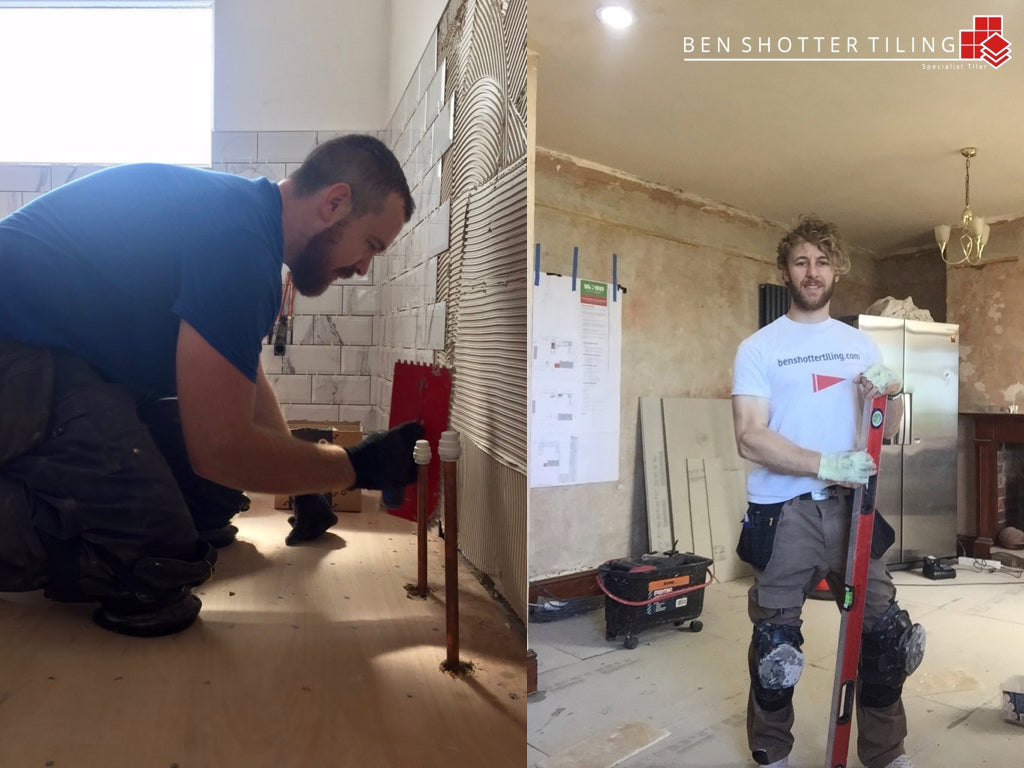 Why are Tilers making such a fuss about Recoil Kneepads?
Tiling is a trade that requires precision, creativity and years of experience to master. It also takes it tole on the knees, so wearing protective knee pads is essential.

When initially developing our knee pads, Victoria developed them for Joiners. Her dad was the inspiration behind the design so they were built with his requirements in mind. However, they aren't just suitable for Joiners. Recoil Kneepads have been used by many other trades, some of which need them more than others.



Tilers are no strangers to kneeling constantly. Laying floor tiles all day and all week means that your

knees are going to take a beating

. Protecting your knees properly is essential to the job. We have heard too many troubling stories about how some of our customers had to change jobs because the pain was too much.

We've been lucky enough to be-friend some of our customers who are professional tilers. Kris and Ben have given us some great insights into the life of a Tiler and have

 some great feedback too

. Here is what they had to say.

 


Kris Taylor – Twitter @taylorthetiler
Occupation: Wall and Floor Tiler
Age - 30
Hobbies and Interests: Football,Rugby, Gym, Avid Adidas trainer collector, Concerts/Festivals

"They're an absolute God send! My knees are ruined from playing rugby and my old knee pads were leaving me in bits come the weekend after a week on them, but your Recoil Kneepads are something else. We've finished now for the day/week and it doesn't even feel like I've been on my knees at all, no redness, no soreness, no aches or pains when getting up off them. You're onto something good guys, keep it up! They must be good as my work mate who is tight as even bought a pair after I let him try mine on."


- Kris also said that if we get some t-shirts that he will "wear them with pride!" We love the support Kris, thank you. 

Ben Shotter – Twitter @mr_shotter
Occupation – Specialist Tiler
Age – late 20's

"Thank you for your message. I left you a review on amazon shortly after buying the knee pads. I have been delighted with them, I've tried many many different pads/kneeling devices in the past and these are the only ones that actually work. 

I tiled a car showroom over the Xmas period using them. That was 12 hours a day for 16 days of constant use and afterwards I had no knee problems at all! Finally, a solution!!"


- Ben has been wearing his kneepads for 10 months now and he said "Although they are covered in tile adhesive and have been worn 6 days a week constantly, they still work perfectly."
*UPDATE* Ben has since emailed us further and agreed to do a guest blog for us on his experience with his Recoil Kneepads and how they have saved his career.

Read Ben's Blog Review HERE


I just want to explain something to you if you have read this far. We share these reviews with you because you deserve to know how Recoil Kneepads perform before you buy them. Too many companies have created mediocre products that

perform poorly and have ZERO scientific evidence of preventing damage

. They create them purely for profit.

Recoil Kneepads have been created to provide you with a superior quality of protection and comfort. They have been scientifically tested and proven against competitors to provide a 76% pressure reduction (20% more than competitors tested) that is spread evenly across the knee joint. These reviews are an amalgamation of Colin and Barry's reviews off of our Website and Amazon respectively, and from speaking with them on Twitter and Facebook. Their feedback is exactly why we do what we do.



If you are interested in purchasing a set of Recoil Kneepads then you can do so by clicking the link below. 



We have a 30 day money back guarantee if you decide that the knee pads aren't for you. We will first make sure that we have tried everything we can to solve your issue, but if we can't we will refund you. We will even recommend a set of our competitors knee pads if we believe that they are more suitable for your requirements. We just want to make you happy. Thank you for reading.

In Same Category
0 comments