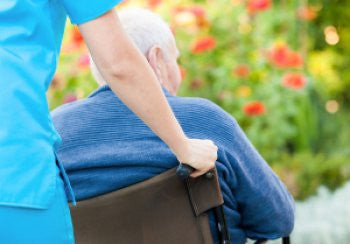 Five Reasons to Protect Your Knees
Your knees must last a lifetime.
Perhaps the most compelling of all reasons! People are living longer, and with it comes the expectation that we will work longer. Gone are the days of retirement age being 60/65. With an aging population the expectation is that we will be working until we are late 60's potentially even early 70's! If you're knees are hurting now at 50, imagine what they'll be like at 70. Can your knees hold out another 20 years? Think back 20 years and ask yourself how much have they deteriorated in that time frame. Can you take the risk of another 20 years with no protection?
As our customer Robert so wisely said "My message to all young people is 'don't wait until you have damaged your body - protect your knees now. You can't grow a new knee!"
Arthritis and Joint Damage can force you to give up work early.
If you're diagnosed with rheumatoid arthritis, the time will come when you may have to consider changing your occupation. Research from Arthritis Research UK states that up to 4 in 10 working people with rheumatoid arthritis lose their jobs within five years,75% of these people give up for reasons directly related to their condition. To make matters worse, a shocking 1 in 7 give up work within one year of diagnosis! (Arthritis Research UK, 2008)
It isn't just the research that proves this is true. One of our customers, Tracey, wrote to us saying:
"My husband has osteoarthritis of the hips and was working as a stonemason. He has to give up work unfortunately as the condition deteriorated. He now has hip replacements and is having to retrain as a stonemason carver." Stories like Traceys' make us more determined than ever to make Recoil Kneepads the best they can be!
If you're an employer, injured employees can be painful for you too.
Joint pain, arthritis, bursitis etc. isn't just a painful condition for the sufferer. It can cost time, cause stress and halt business if you are an employer. In 2006/2007, 10 million working days were lost due to musculoskeletal conditions, second to stress, depression and anxiety (Arthritis Research UK, 2008). Think how being an employee down on a job can affect your work rate. Employees are a business's greatest asset, so make sure you're providing them with the best protection and keeping them fit and healthy.
Can you afford to have time off?
NIOSH – National Institute for Occupational Safety and Health noted in one study of shipyard workers that the estimated direct cost for injuries to the knee was $7,472. And a Liberty Mutual Research Institute for Safety Study indicated that knee injuries accounted for 9.7% of all workplace injury claim costs in 2000. The BLS also noted that the median number of days away from work for a knee injury was 14, compared to 7 days for all types of injuries combined. (Tenacious Holdings Inc, 2009). If you're self-employed can you afford to take that much time off work?
Our customer Barry wrote to us recently telling us:
"I suffered with my knees as a floor layer over the years then ended up in hospital with bursitis on one knee, even though after resting when I returned to work I still had swelling and bruising in the area. I was wary of doing floor work so soon."
We kept in touch with Barry to see how he is getting on with our Recoil pads and the good news is they are working - with Barry telling us they have "saved him from having to change occupation!" Another reason we are determined to keep providing only the best protection!
Worn out and tired knees can be limiting in life.
Although knee deterioration is unavoidable given time – we can reduce its impact on our lives and slow down the ageing process by using the correct PPE (Tenacious Holdings Inc, 2009). Think of the sports you love playing and the hobbies you enjoy. The joyous memories you create with family and the places you can go and explore. If you want to live life fully, movement and mobility makes it easier. If you're not protecting your joints correctly, you risk that mobility and risk the ability to keep active later in life. Is it worth it? 
 The moral of the story is, you only have the one set of knees. If there is a chance that your job or hobbies might damage them, be smart and

work protected.

You'll thank yourself for years to come. 

If you'd like to get yourself a pair of Recoil Kneepads to protect your knees, find out more by clicking
HERE.
In Same Category
0 comments