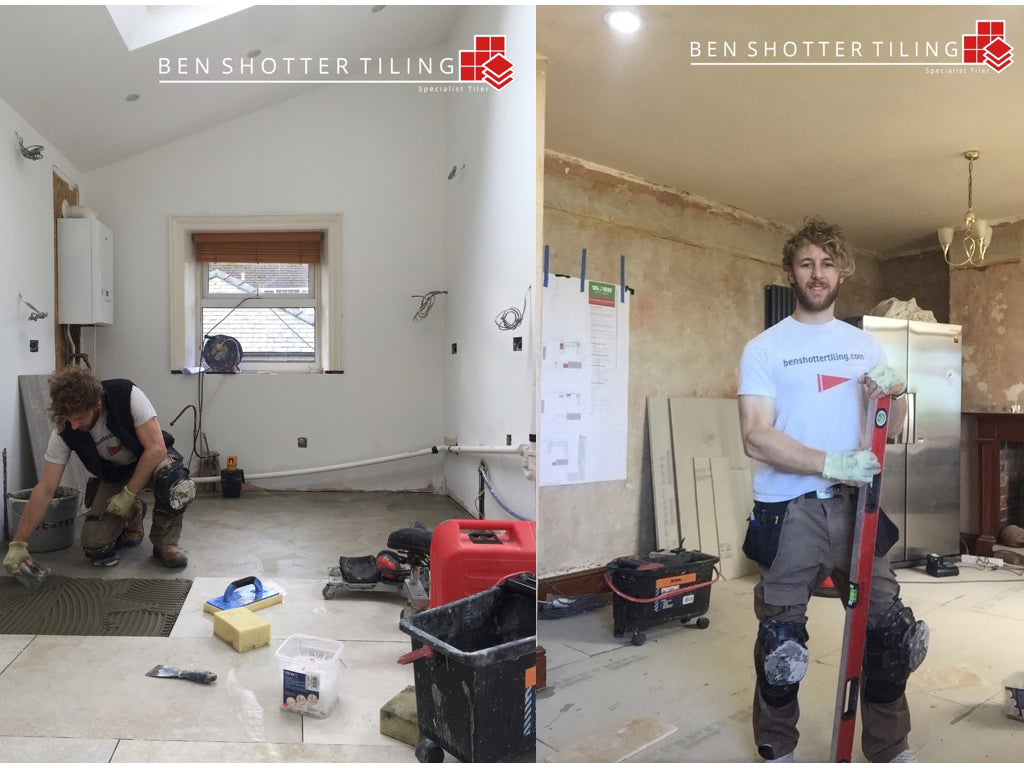 Recoil Kneepads have literally changed my outlook on life!
"I have been tiling now since 2005. That's 12 years of crouching down, kneeling down, crawling about and shuffling around on my knees. So as you can imagine it's become the most hindering part of my job." 

 

Ben has been an amazing customer of ours since November 2016. We were blown away when he emailed us this review. We asked Ben for feedback and he wrote us a blog...so we of course wanted to share his story with you about his experience as a Tiler, wearing Recoil Kneepads. Enjoy!

 

"I did a sponsored walk a few years ago and had to be picked up and took home 3 days into the trip because my knee had swollen up and was causing me worrying amounts of pain. As you can imagine, this is really worrying for someone in their late 20s. The way I looked at it was that by the age of 40 I'd have to have a career change and also be left with permanent damage to my knees. 

Around 9 months ago I was laid in the bath trying to ease the pain in my knees wondering how on earth I was going to do a 220 square meter car showroom floor in the next month without ending up in a wheelchair!

I had tried every type of knee protection I could lay my hands on. I had even spent £200 on an ergonomic tile seat which is specifically designed for tilers to kneel on. It's essentially a little trolly with a bicycle seat on it. The problem I had with that was yes it helped with your knees, but it made you higher up resulting in you having to lean over further to reach the floor. That just lead to having really bad lower back problems. It also took up a lot of space so you could only use it in large areas. 

I have tried all the different types of in-trouser knee pads including the gel type, the "bean bag" type and the memory foam type. All still left me with sore knees.

At one point I had foam from a sofa stuffed up my trouser legs! 

So whilst I was laid in the bath that night I decided to have a look on YouTube at knee protection and came across the story behind recoil knee pads. After a quick search on amazon I managed to find them and decided to order a pair. For a product I'd never seen before and nobody I knew had ever heard of, it was quite a lot of money to part with. However the fact that they seemed to have a lot of love behind the making of them made me feel confident in buying them. 

Now let's skip ahead 9 months. I am again, laid here in the bath. (It seems to be where I do the majority of my correspondence!) This time though I'm laid here to relax and not to try and heal my knees! Recoil Knee Pads have helped me so much more than I could have hoped. I'm no longer fretting about the future as I really feel that if I make sure I wear the pads then my knees will be fine.

I can literally be on them all day and have no aches AT ALL when I get home!

I tiled that 220sqm floor and literally had no knee problems in the slightest and the knee pads dealt with the constant use perfectly. I've worn them every week since November last year and although they are covered in tile adhesive and looking a bit battered, they still work perfectly!

Things you might want to know about the pads:

1. They are huge! Or at least when you first put them on you will think they are. I guarantee you will feel like Robocop or a transformer when you first start wearing them! Don't worry though, this is all part of what makes them work! 

2. The front of them is flat. So when you kneel down you're not "pivoting" on a rounded knee pad, which helps support the rest of your body. 

3. They don't fall down! Now I have quite skinny legs and I'd say I have to pull them up a little maybe every 40-60 mins. However, that's with constantly walking around, kneeling down, going up and down stairs and kneeling down some more! 

4. They don't spin around! The amount of times I've worn strap on knee pads, gone to kneel down and they've twisted so I end up whacking my knee on the floor or on the side of the knee pad! Not with Recoil though! 

5. They are sprung loaded! The fact that the flat face of them sits on the floor and your knee sits on a sprung cushion, means that any movement and impact is taken up by the springs. This really is the best feature of them as it stops you pivoting on your kneecaps. 

6. They have 2 straps which is what helps with the lack of twisting and falling down. It also helps to massively reduce the straps cutting into the backs of your knees. 

 





Finally, the customer service from Recoil is fantastic. I've had messages from them asking how I'm getting on with them. They have let me know about discounts and offers and every time have been friendly and obliging. 

It feels nice to be supporting a product that has been built with purpose and not just to make money. 

So that's my story of how Recoil have literally changed my outlook on life and made work a far less painful experience. Thanks Recoil. Sorry for the essay!"


Ben Shotter - www.benshottertiling.com
Specialist Tiler based in North Yorkshire, England. 


We were blown away by what Ben had to say, which is why we wanted to share it as a blog post. Please appreciate that this was not scripted and it was taken from a genuine customers email that was sent to give us some feedback. We understand that not everyone will have the same experience but this is just to show that a Tiler who uses them every day and has done so for nearly 10 months, loves Recoil Kneepads. This is why we do what we do. If you want to see Recoil Kneepads in action, watch the video below. 

I just want to explain something to you if you have read this far. We share these reviews with you because you deserve to know how Recoil Kneepads perform before you buy them. Too many companies have created mediocre products that perform poorly and have ZERO scientific evidence of preventing damage. They create them purely for profit. Recoil Kneepads have been created to provide you with a superior quality of protection and comfort. They have been scientifically tested and proven against competitors to provide a 76% pressure reduction (20% more than competitors tested) that is spread evenly across the knee joint. These reviews are an amalgamation of Colin and Barry's reviews off of our Website and Amazon respectively, and from speaking with them on Twitter and Facebook. Their feedback is exactly why we do what we do.If you are interested in purchasing a set of Recoil Kneepads then you can do so by clicking the link below. 

We have a 60 day money back guarantee if you decide that the knee pads aren't for you. We will first make sure that we have tried everything we can to solve your issue, but if we can't we will refund you. We will even recommend a set of our competitors knee pads if we believe that they are more suitable for your requirements. We just want to make you happy. Thank you for reading.
In Same Category
0 comments