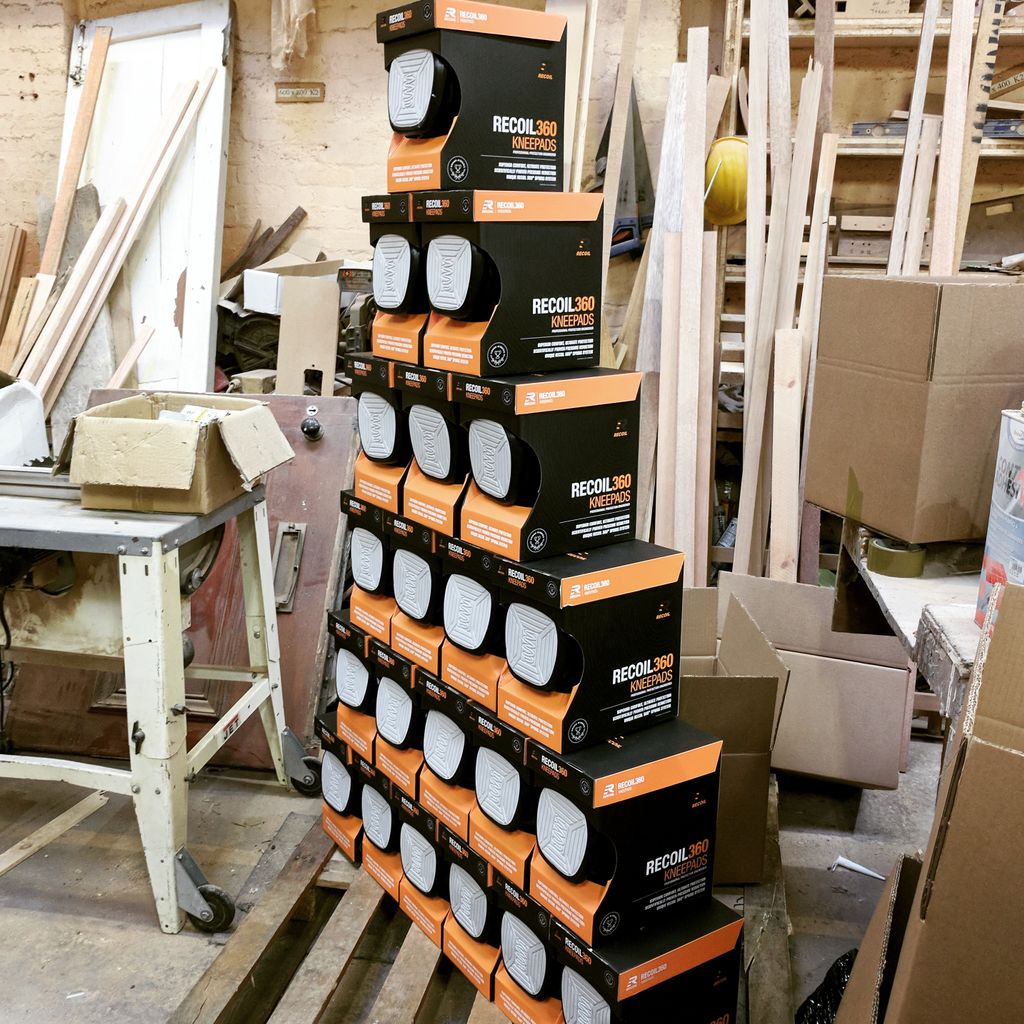 From Employee of Homebase, to Supplier...
Last week we announced, quite possibly, our most exciting piece of news to date. We've got a purchase order from Homebase!


It's a great opportunity for the business and a huge milestone in the Recoil Kneepads journey, but it also marks the achievement of a personal goal. A personal goal that I'd like to share in this blog.
In 2015, when I was participating in the Starter for 6 Program run by The Cultural Enterprise Office, we were told to draw something we'd like to see happen in our future. For mine, I drew a Homebase receipt with the name 'Recoil Knee Pads' written on it. That exercise, formalised what we announced earlier in the week as one of my lifetime goals with Recoil. Now the question, why did I pick Homebase and why do I seem to be demonstrating so much emotion over this particular company?
Well, in 2007, at the youthful age of 17, I had my first shift in the Greenock Homebase store.
I worked there on a Wednesday and Friday after school, and then a Saturday afternoon - It was my first taste of the adult world. It turned into a place where I made some of my best friends, and although I didn't realise it at the time, it was also a place that I would learn some useful skills and knowledge that have served me well in the world of Recoil today. To get even deeper, it's also a place that has given me a lifeline when I needed it, not just a financial lifeline, but a motivational lifeline too through the wonderful staff that have encouraged me with the pursuit of this product. From encouraging me to leave Homebase in 2013 to incorporate VH Innovation Ltd, to then welcoming me back in 2016 when times got tough.
So, let me take you back to the start. I started in Homebase in September 2007. In June 2013, after 6 years of working part time throughout school and Uni, I decided to take the leap and leave Homebase to pursue Recoil Knee Pads. What followed, was 2 years of product development and manufacturing set up.
My plan had been to launch in January 2016, however, as I have come to discover, nothing in start-up life goes as smoothly as you'd hope.
Following some delays with the manufacturing, the launch date was pushed back 6 months and cash was tight, I realised I had two options – one was find and investor and two was put the cash in myself to see us through the next 6 months (with manufacturing now due to be completed in June 2016). Option one probably seems like the sensible choice, but my mindset was and has always been, that I won't take someone else's hard earned cash unless I know exactly what value it will add and what purpose it will serve in driving growth. At 6 months from manufacture, our initial manufacturing costs had already been paid, we were now just burning cash through overheads, therefore any investment would have been purely to keep up with our burn rate, which for me, wasn't value added money. I decided to bootstrap, and approached my old boss at Greenock to see if they had any shifts available. I thought I could work part time and fund myself and the business until I had stock to sell.
I was welcomed back initially for 3 months (that's all I thought I'd need – LOL) in January 2016. Once I got back on the customer service desk it was like I'd never been away. Three months in, I got offered a Showroom Team Leader and Duty Manager role. At what I had said would be the cut off for my time at Greenock, I found more unexpected costs cropping up within the business and I realised I'd need to not only stay in the job for a while longer, I'd also need to up the hours to fund the additional expenditure Recoil had found itself with. The offer of a 20-hour contract at a higher hourly rate was attractive and I agreed.
Around the same time, my brother and I attended the National Hardware Show in Las Vegas to promote Recoil Knee Pads and the launch.
As we were standing at our stall, two guys approached us to ask about the product; it wasn't until the end of our conversation that we discovered they worked for Bunnings (the new owners of Homebase). Scott and I told them we worked for Homebase, and the conversation basically went from there.
Back in the UK, as time went on, I found more and more people started to find out about what I was up to and found it interesting. Through my regional manager I got the chance to meet the Homebase/Bunnings Managing Director and numerous others who offered advice and guidance to get this product and brand up to scratch.
It's interesting how life works out sometimes. I stressed about returning to Homebase as I was worried about the future of Recoil – however, if I hadn't returned, then our future may have been very different.
I was stressed at the end of 2016 because I found myself trying to keep so many plates spinning. I was pretty much now doing a full time Team Leader role plus working on Recoil and also working on another start-up, it was just so much work and I barely had time to socialise or see my family. I felt frustrated with Recoil that it wasn't moving quick enough and I felt totally out of my comfort zone with the sales and marketing challenges I was now facing. There were many times I thought about chucking it all, but I'm now so glad I stuck at it. I didn't give up, largely due to the people around me who encouraged me to keep going, and I'm now so grateful for the opportunities sticking at it has given me. Not just through the connections it allowed me to make, but also through the skills and knowledge I gained about how to handle various different customer and sales challenges while in the Team Leader role.
It's quite serendipitous that our delivery date for our knee pads into the Homebase depot coincides with the month in which we celebrate 4 years of VH Innovation Ltd. It also is the month that marks 10 years since I first stepped foot into the adult world through my first part time job in the Homebase Greenock store. You can tell the month of September will be my favourite now.
I've deliberately kept the Homebase order under wraps for a long time and now to be able to share it with you all excites me and makes me optimistic for the future ahead. I never like to get ahead of myself, or get excited about things until they actually happen.
Paul and I have worked our backsides off the last couple of months, working many 16 hour days cooped up assembling knee pads  and seeing each other more than we see our own families.
We've worked keeping the excitement of this order secret as it has such personal, as well as business significance, because at some points it felt too good to be true. Similar to myself, Paul also started his working life with a part time job in Homebase, only in a different store.
I know this is a long blog, but I wanted to show a true reflection of this journey. Doing so in 300 words just wouldn't do it justice (although would have been fitting considering we just assembled 300 sets for Homebase...) So thank you. To every single one of you that has supported this venture. There are too many of you to name, but I know that you know who you are. Because of you, I've achieved one of my dreams – to be able to walk into a shop and see my product on a shelf.
I hope this story encourages other entrepreneurs to push their boundaries, take advantage of every opportunity and believe everything happens for a reason.
If you are in Retail and are interested in being one of our distributors, please get in touch with me on victoria@recoilkneepads.com or get in touch with Paul on paul@recoilkneepads.com. 

You can see our knee pads HERE
In Same Category
0 comments