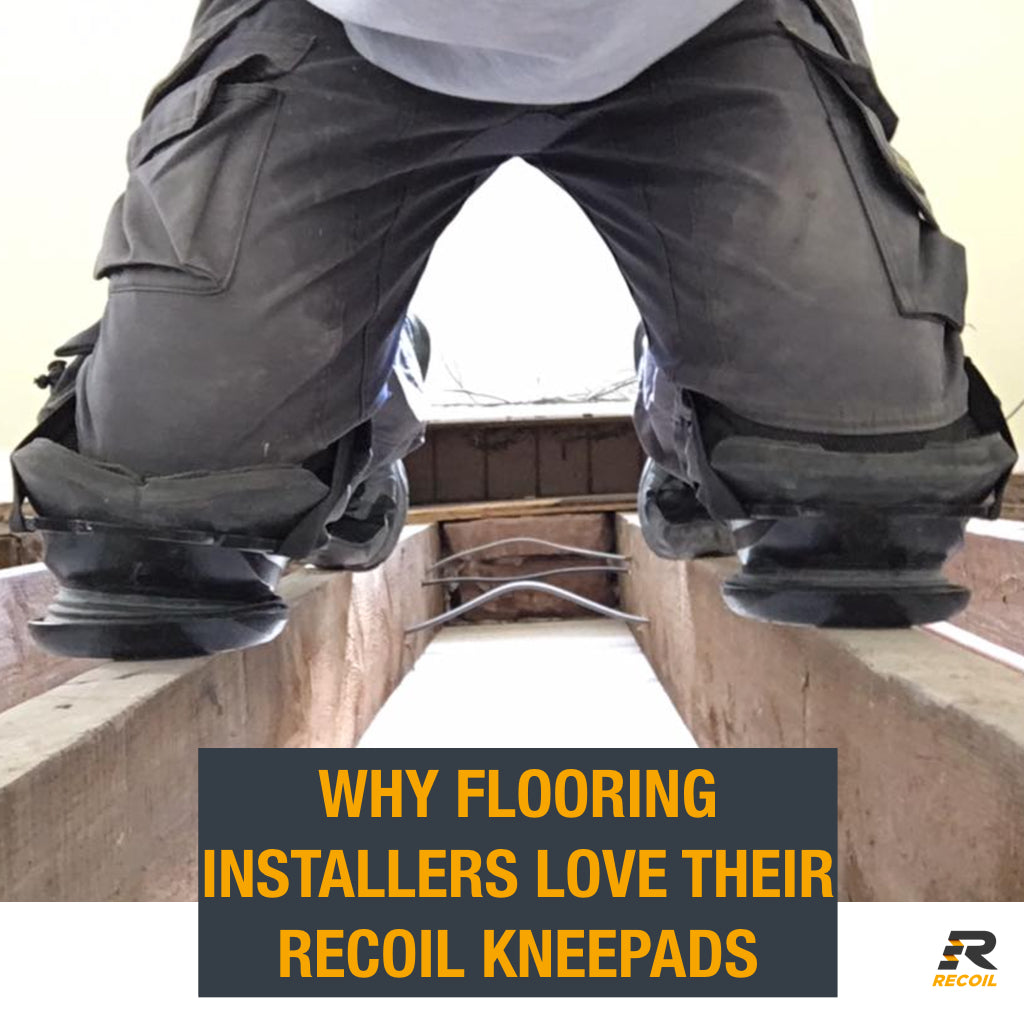 Flooring Installers are falling in love with Recoil Kneepads. Why?
You see them every day. You take them for granted. You don't think about them but you wouldn't be able to get around without them. That's right, I'm talking about what your feet are most likely touching right now…
FLOORS.
Laying floors is a physically demanding job. It puts pressure on the knee and hip joints and the lower back. When you are kneeling, the pressure goes from your knees upwards. It is critical that flooring installers invest in a professional set of knee pads. If your job depends on your knee health and well being, then basic just doesn't cut it. You need to be wearing knee pads that you trust will protect you from further damage and will help prevent any knee wear and tear or related diseases that can occur from lack of protection.  We have had some great feedback from our customers who are flooring installers and we would like to share their thoughts with you.

It's much better for you to hear it from the people who have  experienced the benefits that come from wearing Recoil Kneepads. So without further adieu, please say hello to Barry and Colin.

Barry Leonard
"Absolutely amazing. I've suffered with my knees as a floor layer over the years and

ended up in hospital with bursitis

on one knee. Even after resting, when I returned to work I still had swelling and bruising in the area.

I was wary of doing floor work so soon, especially with knee pads I hadn't used and had only read a couple of reviews on,

but they worked

. As soon as I knelt down I could feel the

pressure being spread over the whole pad and not just in one specific area

.

I've also had problems with the straps on knee pads in the past, but not these. They are

without doubt the most comfortable knee pads I have used

, I was hesitant about the purchase given the price as well but in all honesty they are an absolute bargain given how good they are.

M

y knee is holding up well since I got the kneepads and they have

definitely saved me having to change my occupation.

"
Colin Smith
"I've used all types of pads before. I've worn work trousers with knee pockets for many years. I began with the old rubber pads which flatten rather quickly. I then discovered snickers floor layers' trousers with their own bead filled pads.

They felt great when I began using them and still do in all fairness. I was advised to try gel filled pads, which I did and found those quite good too. As good as the latter two are, they are nowhere near as comfortable as yours!

I love the idea of the springs! It's how I imagine floating on air would be (no exaggeration). They totally take the 'sting' out of being on your knees for prolonged periods. I'd say up to 80% of my workload is wood flooring.

You have invented a product which eases knee issues for people like myself who have already damaged themselves to some extent but these will definitely help young people either starting out or relatively early in their careers."
I just want to explain something to you if you have read this far. We share these reviews with you because you deserve to know how Recoil Kneepads perform before you buy them. Too many companies have created mediocre products that

perform poorly and have ZERO scientific evidence of preventing damage

. They create them purely for profit.

Recoil Kneepads have been created to provide you with a superior quality of protection and comfort. They have been scientifically tested and proven against competitors to provide a 76% pressure reduction (20% more than competitors tested) that is spread evenly across the knee joint. These reviews are an amalgamation of Colin and Barry's reviews off of our Website and Amazon respectively, and from speaking with them on Twitter and Facebook. Their feedback is exactly why we do what we do.



If you are interested in purchasing a set of Recoil Kneepads then you can do so by clicking the link below. 



We have a 30 day money back guarantee if you decide that the knee pads aren't for you. We will first make sure that we have tried everything we can to solve your issue, but if we can't we will refund you. We will even recommend a set of our competitors knee pads if we believe that they are more suitable for your requirements. We just want to make you happy. Thank you for reading.

In Same Category
0 comments